Why are armchairs so expensive? 10 Cool & Cheap Armchairs – Home Decor
This post contains affiliate links, which means we'll receive a commission if you purchase through our links, at no extra cost to you. Read the disclosure here.
Using an accent chair is ALWAYS a great idea, according to well-known interior designers and design schools, so that's what I'd learned.
Armchairs are extremely expensive because of the high manufacturing expenses. Armchairs made of cloth or leather provide the most comfortable seating.
Furthermore, certain armchair structures are distinct and one-of-a-kind. As a result, the manufacturing expense is primarily responsible for the armchair's high price.
"Accent chairs are the perfect way to add a pop of color and personality to a room without committing to a major design overhaul."

-Emily Henderson
There are five reasons why armchairs are so expensive.
Armchairs are available in a variety of price ranges. However, most accent chairs are pricey. Let's take a look at why armchairs are so expensive.
There are a number of factors that might make armchairs pricey:
Design and craftsmanship: The quality of an armchair's design and construction has a big impact on its pricing. Complex designs or one-of-a-kind features could cost extra to develop since they take longer and demand more expertise.
Brand: Expensive or designer names may also be a factor in an armchair's greater price. Because of their widespread reputation for rarity and excellence, these brands frequently command premium prices.
Customization: Personalized or customised features may raise the price of an armchair. For instance, if you want a particular fabric or pattern that is not included in the regular offering, this may necessitate more work and supplies, raising the cost.
Materials: The price of an armchair may go up if it is made of high-quality materials like genuine leather, velvet, or silk. These materials frequently cost more to buy and take specialised effort to make.
Restricted availability: Certain armchairs might only be made in small quantities or offered through select shops or showrooms. Given that there is a limited supply and a potential increase in demand, this exclusivity can come with a higher price tag.
Accent chairs have a slightly different structure than the other chairs. Accent chairs come in a variety of designs and shapes. As a result, the cost of manufacturing this type of structural chair becomes high.
Overall, a number of variables, such as the armchair's materials, design, craftsmanship, brand, ability to be customised, and availability, might affect its cost.
It's crucial to keep in mind, though, that a pricey armchair might be a wise long-term investment in terms of comfort and style that will last for many years.
"Accent chairs can make a big statement in a room. They are perfect for adding a bit of personality and style to any space."

– Jonathan Adler
How much do armchairs cost?
Armchairs/Accent chairs range in price from $200 to $2000+
The price of accent chairs is determined by the material used in their manufacture.
Some accent chairs are so expensive that they can cost more than $2000.
On the other hand, you can get cheap accent chairs for $500.
However, low-cost accent chairs are of poor quality.
So, if you want to buy new accent chairs, you can do so for a reasonable price. Armchairs range in price from $500 to $1000 on average.
"Accent chairs are like jewelry for a room – they add that extra touch of personality and flair that takes a space from basic to beautiful."

– Candice Olson
Where can I find low-cost accent chairs?
Accent chairs are quite pricey. However, if you want to decorate your room with an accent chair, you can choose one that is relatively inexpensive or affordable.
In some places, you can even buy an accent chair for as little as $200. Let's take a look at some places where you can get cheap accent chairs.
What are the Trendy AccentChairs we are OBSESSED with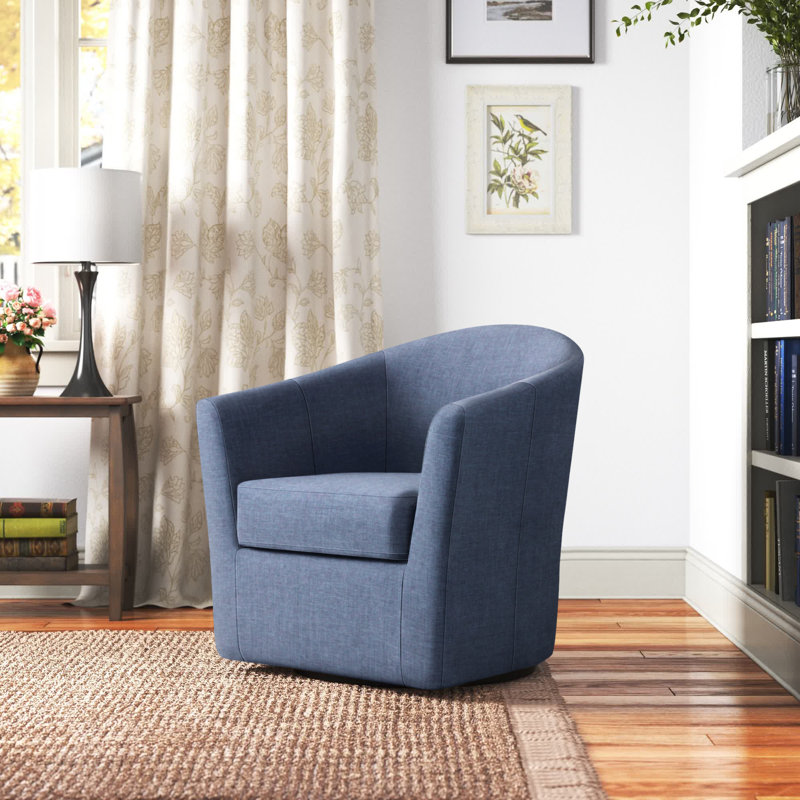 Hansell Upholstered Swivel Barrel Chair
Any corner will benefit from the minimalist accent and alluring swivel feature of this single armchair.
It has foam in the back and seat cushions, and the antimicrobial upholstery gives it even more support.
This chair has a cozy, traditional barrel shape. For a flexible orientation, put it in your bedroom reading nook or in front of the TV and fireplace in the living room.
The seat cushion and cover of this swivel chair are removable, and it is resistant to mildew, fading, scratching, staining, and tearing.
---
"Accent chairs are the perfect way to inject some personality into a space. They can add a bold pop of color or a subtle pattern that ties a room together."

– Nate Berkus
Christopher Knight Home Harrison Fabric Tufted Club Chair
[lasso ref="christopher-knight-home-harrison-fabric-tufted-club-chair-white-blue" id="127905″ link_id="206828″]
Modern Cotton Fabric Lazy Chair, Accent Contemporary Lounge Chair
[lasso ref="abocofur-modern-cotton-fabric-lazy-chair-accent-contemporary-lounge-chair-single-steel-frame-leisure-sofa-chair-with-armrests-and-a-side-pocket-thick-padded-back-animal-print" id="127906″ link_id="206829″]

Christopher Knight Home Walter Fabric Recliner, Light Grey
[lasso ref="christopher-knight-home-walter-fabric-recliner-light-grey" id="127910″ link_id="206830″]
Rosevera Hearst Swivel accent chair, Navy
[lasso ref="rosevera-hearst-swivel-accent-chair-navy" id="127911″ link_id="206831″]
Christopher Knight Home Cecilia Swivel Chair
[lasso ref="christopher-knight-home-cecilia-swivel-chair-with-loose-cover-natural-fabric" id="127915″ link_id="206832″]
Also Read : 25 TRENDY WALL ART PRINTS WE'RE SMITTEN WITH – Wall DECORATION TIPS
[lasso ref="ball-cast-swivel-upholstered-accent-chair-26w-x-28d-x-32-5h-dark-grey-set-of-1″ id="127919″ link_id="206833″]
Rivet Slade Contemporary Living Room Accent Swivel Chair
[lasso ref="amazon-brand-rivet-slade-contemporary-living-room-accent-swivel-chair-27w-felt-gray" id="127920″ link_id="206834″]
Also Read: 20+ Kitchen Counter Decor Trends we adore
[lasso ref="chita-swivel-accent-armchair-faux-leather-living-room-club-chair-with-metal-base-light-grey" id="127924″ link_id="206835″]
HomePop by Kinfine Fabric Upholstered Chair
[lasso ref="homepop-barrel-shaped-accent-chair-orange" id="127931″ link_id="206836″]
Also Read: Is home decor a waste of money ?-10 things you should always spend less than $30 on
[lasso ref="artum-hill-accent-chair-with-fabric-upholstery-flared-arms-and-welt-trim-home-office-furniture-waterway-blues" id="127932″ link_id="206837″]

Read our Articles on Affordable Home Decor
BUDGET-FRIENDLY & Trendy Accent Chairs Buying guide
Here is a buying guide for choosing budget-friendly and trendy accent chairs:
Style: Choose a style that matches your decor and personal taste. Popular styles include mid-century modern, industrial, bohemian, and contemporary.
Material: Consider the material of the chair, including the frame, seat, and back. Options include wood, metal, plastic, and fabric.
Comfort: Choose a chair that is comfortable to sit in, with a supportive seat and back. Test the chair in person if possible to make sure it's comfortable.
Size: Consider the size of the chair in relation to the room it will be in, making sure it fits well and doesn't take up too much space.
Color: Choose a color that complements your decor and personal style, or opt for a neutral color that can be easily incorporated into any room.
Price: Determine your budget and stick to it, looking for budget-friendly options that still offer good quality and style.
Reviews: Read reviews from other customers to get an idea of the quality and comfort of the chairs you're interested in.
"Accent chairs are versatile and practical pieces that can add both style and function to a space. They can be used as a decorative accent or as extra seating, depending on your needs."

– Sarah Richardson
By considering these factors and doing your research, you can find budget-friendly and trendy accent chairs that add style and comfort to your home.
Budget-friendly and fashionable accent chairs – FAQs

What do accent chairs do?
A piece of furniture known as an accent chair is made to offer comfort and visual flair to a space. It usually has a distinctive pattern or fabric and is utilised to enhance the interior décor of a room.
Where to get affordable Accent chairs?
Accent chairs come in a wide variety of affordable options. Popular choices include seats with straightforward shapes and neutral colours, as well as chairs made of inexpensive materials like plastic or metal.
If you're looking for high-quality, reasonably priced solutions, think about buying at secondhand shops or internet marketplaces.
There are numerous ways to locate inexpensive accent chairs, including:
Online stores: Online stores like Amazon, Wayfair, and Overstock provide a broad selection of reasonably priced accent chairs in various designs, materials, and hues.
The pricing of trendy accent chairs from furniture outlets and bargain retailers like IKEA, Target, and HomeGoods are frequently less expensive than those at traditional furniture stores.
Secondhand shops and online markets: You may get gently used accent chairs in secondhand shops and online markets like Craigslist and Facebook Marketplace for a fraction of the price of new ones.
Thrift shops: Because they frequently receive donations of furniture in good condition, thrift shops are also great sites to acquire inexpensive accent chairs.
Events involving sales and clearance: Pay attention to sales and clearance happening in furniture shops and online merchants. On these occasions, you might be able to get a trendy accent chair for a really good price.
DIY and upcycling: If you're crafty, you may try DIY or upcycling projects to make your own distinctive accent chair out of materials you can locate at a thrift store or that are reasonably priced.
You can choose an economical accent chair that matches your budget and enhances your current design by looking around and being open to various styles and materials.
What styles of accent chairs are now popular?
Bold colours and unusual shapes are just a couple of the choices available for trendy accent chairs. Mid-century contemporary chairs with straight lines and tapering legs are in demand, as are chairs with fun fabrics and textures.
Metal and leather chairs in an industrial style are also common.
Design trends for accent chairs in 2023
Accent chairs made of velvet are very popular since they provide an opulent touch to any room. Velvet chairs can be enhanced with metallic finishes and can come in vibrant, jewel-toned hues or soft, neutral tones.
Accent chairs with contemporary design: Contemporary accent chairs frequently have angular, aggressive geometric designs. They are available in a number of hues and designs and can be upholstered in a range of materials, such as leather, velvet, and microfiber.
Accent chairs made of leather are a traditional choice since they offer sophistication and beauty to any decor. They are available in a range of forms, from classic tufted club chairs to sleek, contemporary ones.
Accent chairs with a bohemian flair typically have a relaxed, casual vibe and are made of natural materials like rattan and wicker. They can be given a warm, eclectic feel by adding coloured rugs and pillows.
Farmhouse accent chairs: Farmhouse accent chairs frequently include neutral textiles like linen and burlap and weathered wood finishes. They frequently use plaid or floral patterns as accents and might have a rustic or vintage atmosphere.
Mid-century modern accent chairs: These chairs have simple, clean lines, natural wood finishes, and are inspired by the design sensibilities of the mid-20th century. They frequently have striking colours or patterns and can be upholstered in a number of materials, including velvet and leather.
Only a few of the popular accent chair styles that could still be in demand in 2023 are included here. New designs and materials might, however, become fashionable in the future as design trends continue to change.
What factors should I think about while selecting an accent chair?
Think about the room's size, the décor already in place, and the chair's intended usage when selecting an accent chair.
Choose a chair that fits the area properly and blends in with the decor of the room. Consider the chair's intended usage as well, such as whether it will serve as seating or a decorative feature.
Here are some tips for selecting an accent chair based on the size of the room and existing furniture:
Consider the size of the room: When selecting an accent chair, consider the size of the room it will be placed in. A large chair can overwhelm a small room, while a small chair may get lost in a large room. Measure the space to ensure that the chair will fit comfortably and won't block any walkways.
Look at the existing furniture: Consider the style and color of the existing furniture in the room when selecting an accent chair. The chair should complement the style and color of the other pieces in the room. For example, if the room has a lot of neutrals, a bold, colorful chair can add a pop of interest.
Balance the furniture: When placing an accent chair in a room, think about balance. If there are already a lot of large pieces of furniture in the room, a smaller accent chair may be a good choice. Conversely, if there are a lot of smaller pieces in the room, a larger chair may be a better choice to balance the space.
Choose a cohesive style: Make sure the accent chair fits with the overall style of the room. If the room has a traditional look, a modern accent chair may not be the best fit. Look for a chair with a similar style and design elements to the other furniture in the room.
Think about function: Consider how the chair will be used in the room. If it will be used for reading or relaxing, look for a chair with a comfortable seat and back. If it will be used for extra seating, make sure it's not too bulky and can be easily moved around the room.
By considering the size of the room, existing furniture, balance, style, and function, you can select an accent chair that fits seamlessly into your space.
What materials are frequently used in accent chairs?

Wood, metal, plastic, and cloth are just a few of the materials used to make accent chairs.
Popular upholstered chairs can be upholstered in a range of materials, such as cotton, leather, and velvet. Moreover, chairs could have tufting or nailhead trim as aesthetic accents.
Materials used mostly to build accent chairs
Accent chairs can be made from a wide range of materials, including:
Wood: Wood is a traditional accent chair material that can be utilised for the chair's structure, legs, and armrests.
Several accent chairs have leather or cloth upholstery. Cotton, linen, velvet, and microfiber are common materials for accent seats. An accent chair might look more opulent if it is covered in leather.
Foam: To offer comfort and support to accent chairs' padding, foam is frequently employed. Many other materials, such as fabric, leather, and vinyl, can be used to cover it.
Metal is a sleek and contemporary material that can be utilised for the frame, legs, and arms of accent chairs. Steel, brass, and chrome are all commonly used metals.
Plastic: Plastic accent chairs are a dependable and cost-effective solution. It is frequently used for contemporary or outdoor furniture and can be moulded into a wide range of shapes and colours.
Wicker: Wicker is a textural, natural material that gives accent chairs a bohemian or maritime atmosphere. For chairs in sunrooms or outdoors, it is frequently utilised.
Rattan: Accent chairs are frequently made of this strong and lightweight material. It may be used for both indoor and outdoor furniture, and it has a natural, organic appearance.
These are only a handful of the materials that may be used to produce accent chairs; various materials can be used to make one-of-a-kind and fashionable designs.
How should my accent chair be cleaned and maintained?
Follow the cleaning recommendations provided by the manufacturer to maintain and care for your accent chair.
In general, use a soft, damp cloth to clean the chair. Stay away from harsh chemicals and cleaners that are too rough. Regularly vacuum upholstered chairs to get rid of dust and debris, and treat stains right away.
Here are 5 Quick cleaning and maintenance Tips for accent chairs:
Dust and vacuum frequently. To clean the dust and dirt off your accent chair, use the soft brush attachment on your vacuum. Use a gentle, dry cloth to frequently dust the chair.
Spot-clean stains: If there is a spill or stain on your accent chair, clean it up right away to stop it from spreading. Spot-clean the impacted area using a damp cloth and a mild detergent, and then pat it dry with a fresh towel.
Employ a fabric protector: To assist stop spills and stains from setting in, think about using a fabric protector on your accent chair. To make sure the product doesn't harm the fabric, test it first on a small, discrete area.
Cushion rotation: To assist minimise uneven wear and tear, rotate the replaceable cushions on your accent chair on a regular basis. Your chair's lifespan will be extended as a result of this.
Avoid using abrasive and strong cleaning materials or harsh chemicals on your accent chair since they can harm the fabric or finish. Use gentle cleaning chemicals instead, and adhere to the manufacturer's cleaning recommendations. Consult an expert upholstery cleaner if you're unsure of what products to use.
Home decor Articles