judge This Book by Its Cover: Using Coffee Table Books for Decor
This post contains affiliate links, which means we'll receive a commission if you purchase through our links, at no extra cost to you. Read the Disclosure here.
Whether you're re-decorating your home or simply adding a few finishing touches, Coffee tables and Coffee table Books Decor go hand in hand and are a common sight Now a days.
You'll notice coffee table books strewn over my place if you look closely.
A stack of coordinated coffee table books is one of the nicest decorations for any room, in my opinion.
One of the nicest things about coffee table books is that they are full with inspiration in the form of images and text.
Some of them are pricey, but I guarantee you'll have a great time perusing them Consider my coffee table book hack, which involves simply flipping the cover of any large thrift shop book to create a simple white coffee table book.
There is a certain look to Coffee table books decor that is now in Home decor mags, and these pieces does a great job of capturing that look.
They may be bundled and displayed on coffee tables in your living room, set on a bar cart, or even propped up on side table in your bed room for a more contemporary look! It doesn't matter how you show them, you'll be infatuated with them!!
There can be 2 varieties of Coffee table books that you can stack on your coffee table. one that are Novel books and second are the fake books.
I like to keep fake books in the living or Theatre room coffee table as I will not be reading books there, However I like to keep real book on my bedroom side table.
The coffee table Books that are now in style are the focus of this blog- Both real Books and fake ones.
In the meanwhile, I've put together a list of my favourite fashionable coffee table novels that you can buy online.
Also Read: 10 Simple and Effective Ways to Make Your Living Room Extra Cozy
Coffee table Books decor Trends in 2023
Whichever trend you decide on for your coffee table books, make sure it goes with your overall décor theme and personal taste.
Books about fashion and design: Coffee table books about fashion and design are always fashionable. There is a coffee table book out there for any passion, whether it be in graphic design, interior design, or high fashion.
Books with a personal touch: Customized coffee table books with your own images and tales are gaining popularity. These books can spark conversation and give your home a unique touch.
Books on food and drink: Coffee table books with subjects related to food and drink, such as wine guides and cookbooks, can give your decor a touch of culinary knowledge. Also, these novels can be excellent discussion starters, especially if you enjoy cooking and entertaining.
With muted colours and simple, clean patterns, minimalist coffee table books can produce a chic, peaceful ambience. These books are also excellent for showcasing minimalist photography or other types of artwork.
Books with a natural theme: Coffee table books with natural themes, including botanical prints, wildlife photography, or landscape art, can bring the outdoors within. These novels can also contribute to a serene and calming ambience.
Music and entertainment books: Coffee table books depicting celebrities from the worlds of music and film, from rock stars to actors, can provide a touch of whimsy and fun to your decor.
These booklets can also be used to pay homage to your preferred musicians or performers.
Travel books: Coffee table books that highlight various locations and cultures from across the world can infuse your decor with a sense of adventure and wanderlust.
If you enjoy travelling or have a keen interest in other cultures, these books may be extremely motivating for you.
Antique and antique books: Books with elaborate covers and elaborate illustrations can give your decor a nostalgic and historical feel. You can find these books online, in used booksellers, and antique shops.
Books with striking covers: Coffee table books with striking covers can inject some life and colour into your design. Themes in these publications might span from pop culture and fashion to art and design.
Themes related to diversity, social justice, and cultural experiences are becoming more and more common in coffee table books. These books can be a fantastic way to show off your interests and principles while also spreading knowledge and awareness.
The most crucial thing to keep in mind is to select coffee table books that you adore and that reflect your individual hobbies and style. They may offer character and flair to any room, whether you select a few statement volumes or a variety of lesser books.
THE BEST COFFEE TABLE BOOKS DECOR OF THE SEASON
Well, Let's start with some cool coffee tables that are trending in 2022 and next we go to the coolest Coffee Table Books Decor for your Trendy home.
Buying house is just the beginning, Next Step is Making Your home Most Loved Liveable place
Coffee table Designs Trending in 2023
[lasso ref="wohomo-nesting-coffee-table-set-of-2-small-round-side-table-and-rectangular-coffee-table-2-in-1-industrial-modern-style-coffee-table-for-living-room-detachable-2-pieces-set-white-marble" id="147994″ link_id="194750″]
Silvia Abaca 4 Legs Coffee Table
Marry bohemian charm with traditional style by bringing this coffee table home!
Assembled from natural abaca, each table is unique. Every table is handwoven by Indonesian artisans for unparalleled craftsmanship
---
[lasso ref="natural-walnut-coated-coffee-table-custom-designed-coffee-table-wooden-rustic-coffee-table-wood-living-room-furniture-disassembled-modular-furniture-cloud-model" id="132269″ link_id="194751″]
Suzanne Kasler Byron Nesting Coffee Tables
These Lovely coffee tables from designer Suzanne Kasler add natural warmth and versatile serving space in the living room or family room.
"Natural elements and clean lines make beautiful pieces that easily layer in
---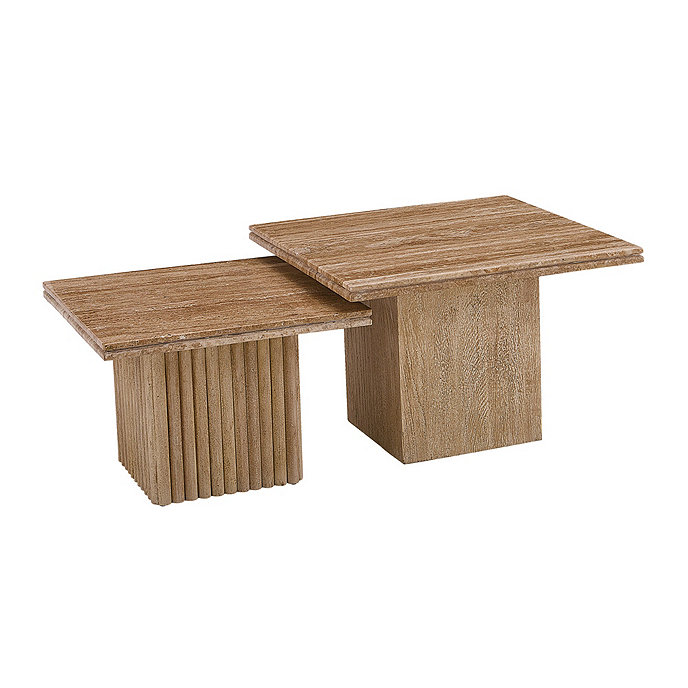 [lasso ref="christopher-knight-home-ckh-small-oval-mod-rotatable-coffee-table-glossy-white" id="132273″ link_id="194752″]
Whilem Round Coffee Table
This modern coffee table blends French deco and organic tones. The oak legs gently frame the marble tabletop, creating a graceful silhouette.
Brass accents and favourite books add colour and contrast to this marble coffee table.
---
Cyrus Round Coffee Table
A smooth sheen is achieved by polishing a remarkably basic poly-resin top generated from river sand.
The angular black iron foundation adds architectural interest to outdoor enjoyment.
[lasso ref="fab-glass-and-mirror-side-coffee-table-18-in-white" id="132277″ link_id="194753″][lasso ref="sauder-carson-forge-lift-top-coffee-table-coffee-oak-finish" id="147995″ link_id="194754″]
Coffee table Books Decor- Faux Decorative Books
[lasso ref="km-designs-black-and-white-hardcover-faux-books-for-bookshelf-book-decor-decorative-books-for-home-decor-faux-books-for-decoration-book-decor-for-coffee-table-count-your-blessings" id="128190″ link_id="194755″][lasso ref="3-pieces-fashion-decorative-bookhardcover-modern-decorative-book-stackfashion-design-book-setdisplay-books-for-coffee-tables-shelvesparis-new-york-london" id="148015″ link_id="194756″][lasso ref="decorative-books-set-of-3-designer-book-decor-inspired-fake-books-for-coffee-table-books-fashion-book-decor-and-hardco" id="148035″ link_id="194757″][lasso ref="decorative-hardcover-quote-booksblack-and-white-decoration-books-farmhouse-stacked-books-hope-faith-trust-set-of-3-stacked-books-for-decorating-coffee-tables-and-bookshelf" id="148016″ link_id="194758″][lasso ref="nwt-framed-canvas-print-wall-art-arch-view-exterior-with-paper-planes-sun-geometric-shapes-illustrations-modern-art-modern-scenic-colorful-ultra-for-living-room-bedroom-office-16×24-natural" id="148017″ link_id="194759″][lasso ref="medoo-decorative-books-for-home-decor-coffee-table-books-decor-faux-books-for-bookshelf-decor-book-decorations-for-living-room-table-decor-book-shelf-decor-accents-home-decor-books-for-decoration" id="128169″ link_id="194760″]
Neutral Looks- My pick from Pinterest
[lasso ref="kinfolk-travel-slower-ways-to-see-the-world" id="167427″ link_id="236185″]
[lasso ref="at-home-in-joshua-tree-a-field-guide-to-desert-living" id="167428″ link_id="236186″]
Decorative Book ends
[lasso ref="ambipolar-cat-decorative-bookends-unique-book-ends-to-hold-books-heavy-duty-for-office-desk-vintage-antique-black-home-decor-shelf-decoration-modern-living-room-decor" id="167430″ link_id="236187″]
[lasso ref="book-ends-to-hold-books-decorative-bookends-for-book-shelf-non-skid-and-sturdy-to-hold-heavy-books-home-decor-office-decor" id="167429″ link_id="236188″]
Decorative Metal Bookends for Bookshel
How handsome is this! These Booksends for the bedroom with a dog: so that it has the appearance and feel of an original work of art.
[lasso ref="decorative-metal-deer-bookends-bookends-for-shelves-book-holders-book-shelf-organizer-desk-organizer-heavy-duty-non-skid-bookends-living-room-decor-home-decor-creative-gift" id="167437″ link_id="236189″]
[lasso ref="agirlgle-bookends-decorative-book-ends-metal-black-heavy-duty-man-bookend-studious-reading-book-end-bookshelf-decor-for-bedroom-library-office-school-book-display-desktop-organizer-adults-kids-gift" id="167436″ link_id="236190″]
Decorative Fake Books
Set of 4 Faux Book, Nordic Style
Make sure to Nordic Style into your home or office. Love Amazon discoveries, and this could be one of the finest for fashionable Coffee table Books Decor.
[lasso ref="4-pieces-faux-books-for-decoration-modern-fashion-decorative-books-set-for-hardcover-home-decor-fake-book-stacks-display-for-office-bar-coffee-table-rustic-farmhouse-bookshelf" id="167439″ link_id="236191″]
Outgeek Set Of 4 Coffee Table Books Decor,
THE MOST UNIQUE cute DECOR! Fashion is the current interior design trends! It's certain to look stunning on any coffee or side table in any room.
[lasso ref="cantalop-home-sweet-home-stacked-books-decor-set-of-3-storage-box-for-entry-table-decorative-stacked-books-decor" id="167440″ link_id="236192″]
Home Wooden Fake Books for Modern Coffee Table Decor,
What a cute pattern! Everything antique appeals to me, as I've already said. This is an excellent choice for a stylish coffee table decor in your home!
[lasso ref="decorative-faux-false-prop-books-4pcs-for-book-shelf-decorationdecorative-books-for-decorating-coffee-tables-or-shelves-for-homehotelroomstore-farmhouse-books-general" id="167441″ link_id="236193″]
Girly Decorating Coffee table-My pick from Pinterest
Girly Deco Coffee table
Real Books set for your Reading/decoration
Book Set
This box set, which includes Divergent, Insurgent, Allegiant, and Four:
A Divergent Collection plus an exclusive Divergent series poster, is ideal for lovers of the Divergent series who wish to acquire the complete library.
[lasso ref="a-court-of-thorns-and-roses-paperback-box-set-5-books" id="167445″ link_id="236194″]
JRR Tolkein
Lord of the Rings and The Hobbit, the greatest fantasy epic of all time, are included in this four-book boxed set.
[lasso ref="j-r-r-tolkien-4-book-boxed-set-the-hobbit-and-the-lord-of-the-rings" id="167446″ link_id="236195″]
Shatter me series
Love this Whether you're decorating a beach house, lake cabin, or a beach theme bathroom in your home, this piece of beachy wall art set is the ideal addition! As a present, they're ideal.
[lasso ref="shatter-me-series-6-book-box-set-shatter-me-unravel-me-ignite-me-restore-me-defy-me-imagine-me" id="167448″ link_id="236196″]
Fifty Shades Trilogy (Fifty Shades of Grey )
Love this Beach theme! Whether you're decorating a beach house, lake cabin, or a beach theme bathroom in your home, this piece of beachy wall art set is the ideal addition! As a present, they're ideal.
[lasso ref="fifty-shades-as-told-by-christian-trilogy-grey-darker-freed-box-set" id="167443″ link_id="236197″]
Minimalist Scandinavian style decor-My pick from Pinterest
Minimalist Decor
[lasso ref="kinfolk-travel-slower-ways-to-see-the-world" id="167427″ link_id="236198″]
Coffee table Books decor Buying Guide

Here are some things to think about if you want to purchase coffee table books to complement your home's decor:
Choose books that speak to your interests: There are a wide range of topics for coffee table books, from travel and art to food and fashion. Choose novels that speak to your interests, ones you'll want to read and recommend to others.
Think about the book's size and style: Large hardcover books and smaller, more portable books are both common types of coffee table books. To ensure that the book complements your environment, take into account its size and design.
In order to ensure that the photographs and text are clear and colourful, look for coffee table books with high-quality printing and material. To lessen glare and reflections, choose books with thicker paper or matte finishes.
Look for high-quality photographs: To ensure that a coffee table book's images are both aesthetically pleasing and durable, they should be of a high quality and printed on high-quality paper.
Think about the size: The coffee table book's size has to be in keeping with the dimensions of your coffee table. Too-small or too-large books might appear uncomfortable and out of proportion.
Verify the cover: The coffee table book's cover should be eye-catching and complement your decorating taste. Before buying, think about the cover's colour, texture, and design.
Look at the ratings: Read customer reviews of coffee table books before purchasing them to find out what other people think about the publication's calibre and subject matter. Search for novels that have a lot of good reviews and ratings.
Think about the author and publisher: While selecting a coffee table book, take into account the reputation of the author and publisher. To ensure the content's quality and accuracy, pick books from reputable publishers or authors.
Verify the cost: Depending on the size, subject matter, and publisher, the cost of coffee table books might vary. When selecting a coffee table book, take your budget into account and search for bargains or discounts to get the greatest deal.
Choose a book that captures your unique personality: A coffee table book may reveal something about your character and passions. Pick a book that appeals to you and reflects your distinct sense of style and taste.
Examine the information: The coffee table book's content should be interesting and compelling and include both text and photos. Pick a book that you'll enjoy reading and that will get your visitors talking.
You can select coffee table books that not only complement your decor but also showcase your individual hobbies and style by using the advice in this article.
Related Articles
---