What are the best bar stools for Kitchen Island
This post contains affiliate links, which means we'll receive a commission if you purchase through our links, at no extra cost to you. Read the Disclosure here.
My buying experience for bar seats took me completely by surprise;
I was unprepared. While looking at Pinterest and Instagram photographs of bar stools, I would think about how adorable they were, totally forgetting the price of each one.
Once that day arrived, it was time to look for the ideal bar chairs, and my goodness, what an experience it was.
I had no idea they were that pricey! Every time I checked the pricing, it seemed to increase up.
I had no idea I'd have to spend so much money on bar stools; it was a complete shock.
Rather than scare or upset you, I'm sharing this information to assist you in your own bar stool purchase process, because no one right now needs a panic attack.
Thanks to my extensive research, bar stools can now be purchased at both reasonable and high-end prices that would look great in any room.
When I finally found a nice bar stool that was also reasonably priced. I'm relieved that I've learned everything there is to know about purchasing bar stools.
WHAT DO YOU MEAN BY A BAR STOOLS?

A bar stool is a tall chair that typically includes footrests in order to provide the user with support for their feet while sitting in the chair. Stability for use as regular or bar height tables in bars, lounges, and pubs is what determines the height and narrowness of restaurant bar stools. Bar stools can also be used at regular table heights.
Although you can find them at kitchen counters now, bar stools were originally designed to be used in bars only. These days, however, you can find them anywhere.
The height of a table top that is considered to be bar height is typically between 40 and 42 inches when measured from the floor.
The seat of a bar stool should have a height that is somewhere between 29 and 30 inches measured from the floor. Customers can comfortably use the counter or bar-height table surface for eating and drinking while still having enough room for their knees when seated on restaurant bar stools with those dimensions.
The height of a restaurant bar stool is measured from the ground up to the top of the seat, just like the height of a counter stool. Seat heights of 12 inches separate bar stools used in restaurants from those used at counters.
Now that you've read this, I hope you're more prepared than I was. Enjoy!
15+ Decor Tips to make bar cart look expensive
What are the bets Bar stools and counter Stools to look for.
11+ Best Bar Stools and Counter stools to look for this year for every Budget
---
Affordable Bar Stools
Orozco Swivel Adjustable Height Bar Stool
With this height-adjustable barstool in your home, not only will it have a more contemporary feel, but it will also have a gorgeous splash of colour.
The style as a whole is laid-back and modern, which enables it to complement any room or space in the house without looking out of place.
---
[lasso ref="sidanli-bar-height-stools-set-of-2-gold-bar-chairs-in-modern-design-green-bar-stools-for-kitchen-counter" id="167023″ link_id="235668″]
---
With this height-adjustable barstool, you can shake things up in your home and give it a fun and modern feel at the same time.
The smooth seat and cutout back combine to make a contemporary and comfortable seating arrangement.
---
---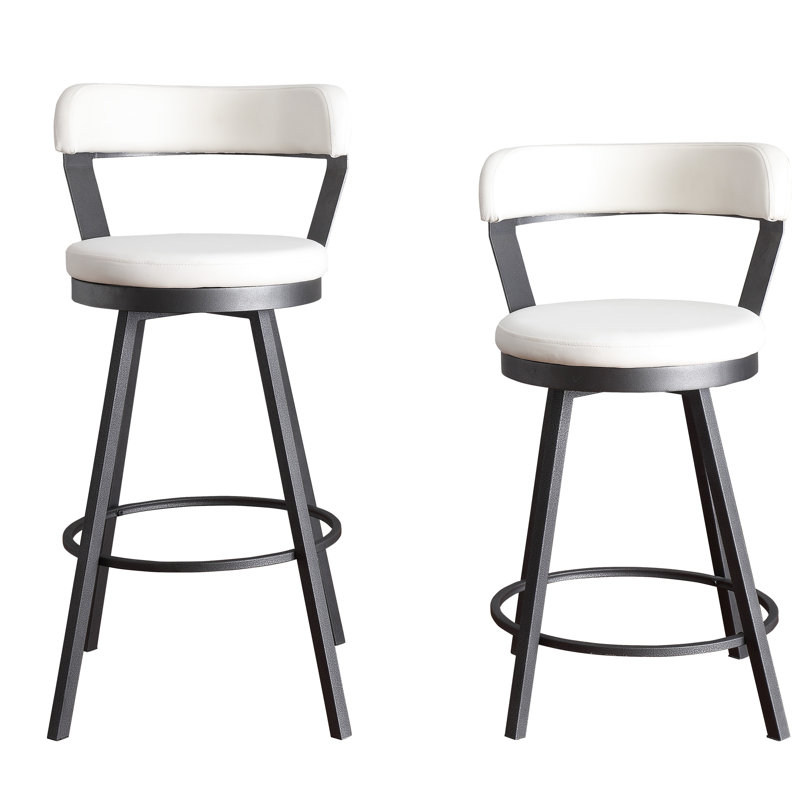 White Leatherette Bar Stool
There is no question as to why stools are such a sought-after staple in home decor: they offer sensible seating arrangements to countertops, they provide a stylish focal point to your bar ensembles, and they are easy to carry from room to room whenever guests need somewhere to sit.
---
[lasso ref="qqjbd-adjustable-bar-chairs-breakfast-dining-bar-stools-for-kitchen-counter-barstools-leatherette-exteriorchrome-steel-footrest-base-color-white" id="167026″ link_id="235669″]
---
Bar Stools from Pottery Barn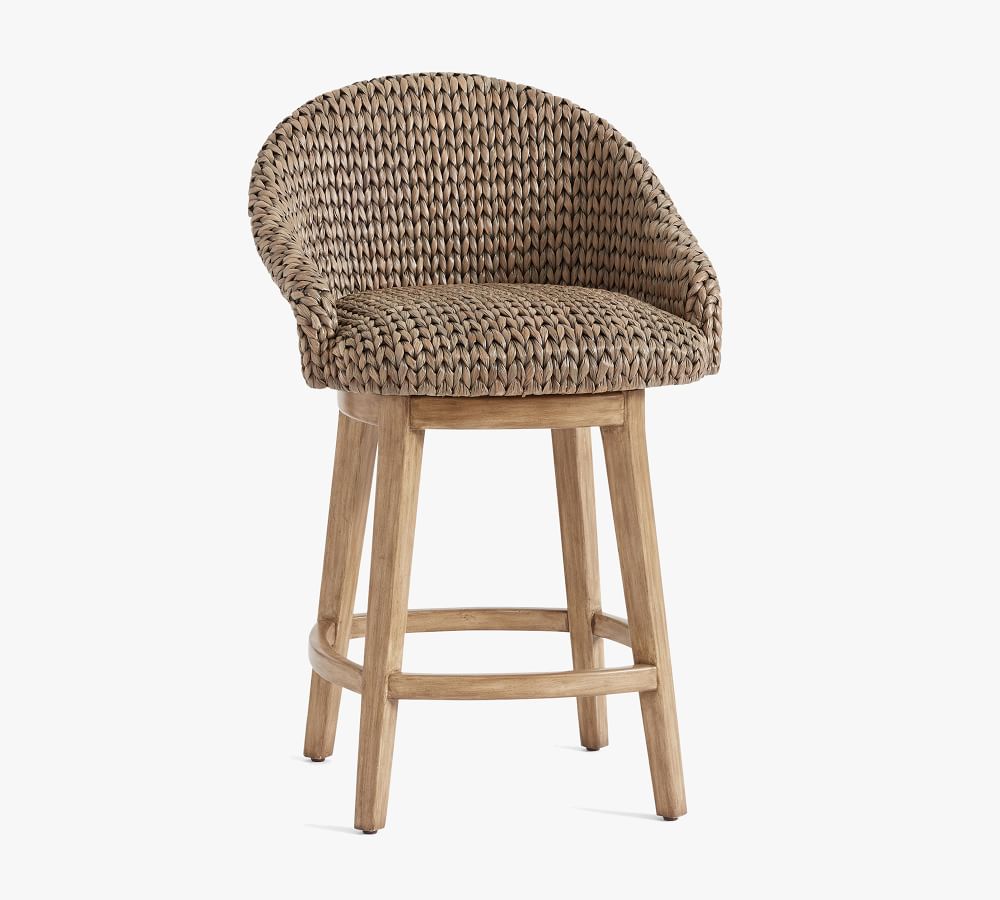 Seagrass Bucket Swivel Counter Stool
Bring an air of effortless elegance into the kitchen or dining room with you. These swivel counter stools are handwoven of abaca and seagrass, which will become even softer and more beautiful over time.
A roomy bucket seat offers a cosy seating arrangement that encourages extended conversations and repeat visits for additional helpings.
---
---
Parisian Woven Bar & Counter Stool
These counter and bar stools have a sophisticated yet laid-back vibe to them, giving the impression that you are relaxing in a quaint café in Paris while drinking a cuppa.
They are woven with natural rattan and bamboo, and as a result, they bring a certain inviting warmth to the spaces you have designated for dining.
---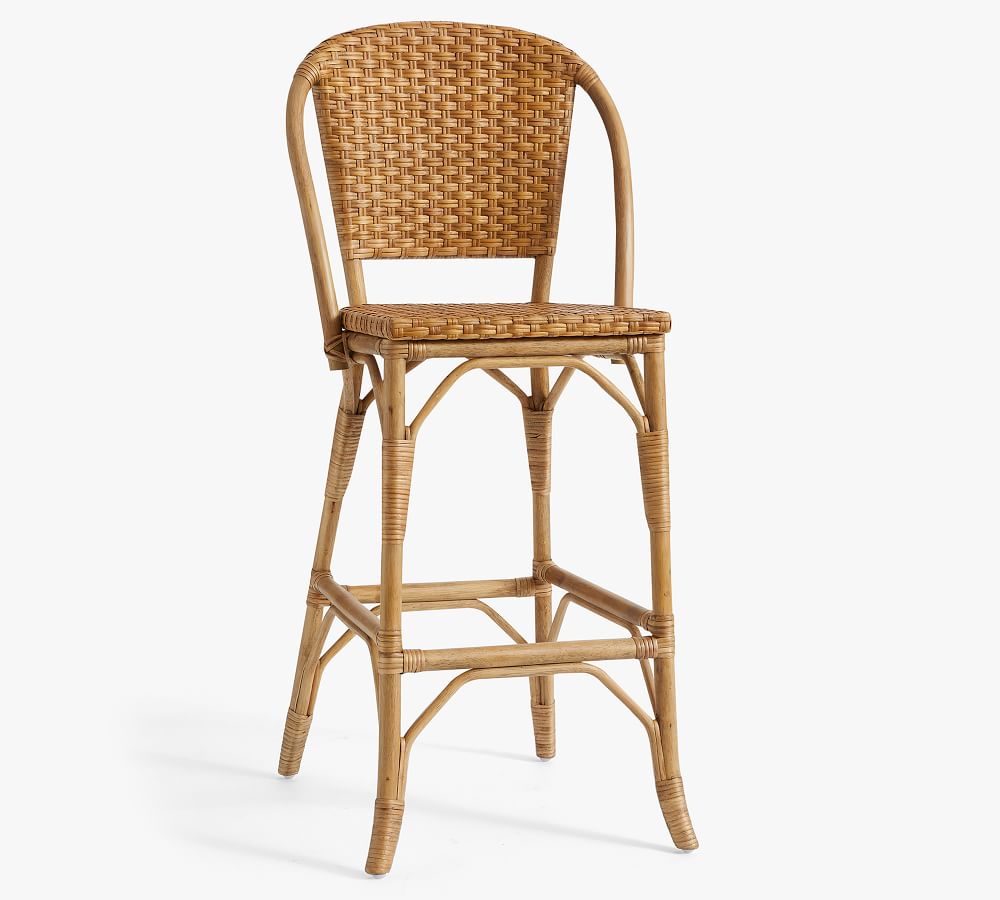 Pub Kitchen Counter Stool -Retro Design
Love Fashion Go get this! Everyone who enters your house will say, "Love it!" after seeing the attractive chair you've added to your living room. It is ideal for use in a variety of settings, including bars, kitchens, coffee shops, and marketplaces.
Retro Home Swivel Bar & Counter Stool
If you prefer antique pieces of furniture, then this bar stool will complement your sense of style in a way that no other piece of furniture could.
This bar stool's frame is made of steel that has been chrome-plated, and it features a seat that can swivel a full 360 degrees for unparalleled comfort.
---
---
Contemporary Red Vinyl Adjustable Bar Barstool
I love the design! With this classic adjustable height red barstool with chrome arms, you can create an elegant, luxurious atmosphere in your bar or kitchen.
The combination of elegant vinyl upholstery and a cutout back design, as well as the pedestal chrome finish, adds refinement to your environment. house anywhere you want a sleek, elegant appearance.
[lasso ref="flash-furniture-2-pk-contemporary-red-vinyl-adjustable-height-barstool-with-arms-and-chrome-base" id="167027″ link_id="235670″]
Leatherette Bar Stool
Are you a leather look & pastel Green fan? This Cushioned Leatherette Upholstery Airlift Adjustable Swivel Barstools with Chrome Base are streamlined, elegant, and adaptable, making them an excellent choice for your home bar or counter.
[lasso ref="zyledw-stoolsadjustable-floor-chair-bar-stools-for-kitchens-leatherette-with-back-barstools-swivel-chairs-stool-breakfast-bar-stool-beige-60-80cm" id="167028″ link_id="235671″]
Christopher Knight Home Averie Barstool
Add some color and life into your house with these collection of Bar stools.
With its vibrant sheen achieved through vigourous polishing, this pub-height iron barstool adds a funky, retro flair to your home.
[lasso ref="christopher-knight-home-averie-barstool-adjustable-iron-red-24-seats-red" id="167029″ link_id="235672″]
High-End bar Stools
---
---
Ivy Bronx avoids falling into the trap of simple design and instead strives to create designs that are unexpected.
Any house can be made more lively with the help of the decorating tools offered by this daring brand.
---
---
Armen Living Delmar Adjustable Barstool
Love the design!! and the functionality. The hydraulic lift of the Delmar stool allows you to effortlessly adjust the height of the stool from 26 inches counter to 30 inches bar height, enabling you to use it in almost any environment.
[lasso ref="armen-living-delmar-adjustable-barstool-in-grey-faux-leather-and-brushed-stainless-steel-finish" id="167030″ link_id="235673″]


[lasso ref="eames-wire-counter-stool-by-herman-miller" id="143092″ link_id="189070″]
Maddie Bar Stool
Love the cool design!! Put a new spin on the typical schoolhouse seating arrangement. Solid wood frame and an ash veneer seat, both finished in a sleek, timeless black, give the contemporary bar a clean, uncluttered appearance.


[lasso ref="rory-counter-stool" id="143079″ link_id="189066″][lasso ref="smartfurniture-2″ id="143068″ link_id="189067″][lasso ref="smartfurniture-bertoia" id="143074″ link_id="189068″][lasso ref="bertoia-stool-fully-upholstered-by-knoll" id="143087″ link_id="189069″]
Leopard Shell Back Bat stool
Love the design!! The ensemble is completed with an open teak wood foundation that is both nostalgic and contemporary in design.
[lasso ref="leopard-shell-back-adjustable-swivel-bar-stools-pu-leather-padded-with-back-set-of-2-sky-blue" id="167033″ link_id="235674″]
Trending Bar stools from WayFair
---
---
Trendy Bar Stools from Amazon.
Swivel Bar Stools
You'll be able to amaze your guests with your bartending skills with this cool bar Stool
[lasso ref="phi-villa-swivel-bar-stoolsadjustable-bar-chairs-with-armrest-and-backrestarmchairs-for-kitchen-island-counter-and-dining-roommax-load-bearing-up-to-250-lbsgrey1-pack" id="144322″ link_id="235675″]
Industrial Bar Stools
This is the coolest decanter I have ever seen on Amazon. Designed for Rustic design enthusiasts, this bar stool highly suitable Foot rest!
Signature Design by Ashley Bellatier
I'm smitten! Are you a fan of mid-century design? Get your dose on with this upholstered bar stool, which is definitely inspired by vintage design elements. You'll like the smooth swivel and adjustable height, which are both functional features.
[lasso ref="signature-design-by-ashley-bellatier-mid-century-modern-34-adjustable-height-curved-bar-stool-brown-white" id="167034″ link_id="235676″]
[lasso ref="armen-living-grady-29-swivel-cream-faux-leather-and-walnut-wood-bar-stool" id="144330″ link_id="235677″]
Ergonomic Friendly Faux Leather Bar stool
This stool was created with ergonomic concepts in mind, with a shape that follows the contours of your back and a broad seat to provide more space. Your back and body will benefit from the tremendous comfort provided by the soft foam-padded cushions, which will also aid to support and relax your body.
Rose Gold Bar Stool
For those of you feminine ladies out there who are wondering, "Where's the Rose gold?" This one is dedicated to you!
My favourite part about this trendy style is that it is a bit more feminine than the norm. If you have the room, I believe this is a terrific alternative! These stools are beautiful, (I get tons of compliments!).
[lasso ref="brage-living-adjustable-bar-stool-swivel-round-metal-airlift-barstool-backless-counter-height-bar-chair-for-kitchen-dining-room-pub-cafe-rose-gold" id="167037″ link_id="235678″]
Crosley Furniture Jasper Backless Swivel Counter Stool
Love Fashion Go get this! Complete your bar/counter area collection with this value-packed cool counter Stool
[lasso ref="crosley-furniture-jasper-backless-swivel-counter-stool-26-inch-black-with-white-cushion" id="167038″ link_id="235679″]
[lasso ref="superjare-adjustable-counter-height-bar-stools-set-of-2-swivel-tall-kitchen-counter-island-dining-chair-with-backs-24-armless-modern-bar-stool-chairs-fit-counter-island-from-32-to" id="167039″ link_id="235680″]
Read our Articles on Trendy Home Decor for every Budget