The 21+ Best Bar Carts in 2022-Budget to Splurge
What are the Best Bar Carts for apartments in 2023-From Budget to splurge
This post contains affiliate links, which means we'll receive a commission if you purchase through our links, at no extra cost to you. Read the disclosure here.
Well, my bar cart has been up and running since I turned 25. I have been experimenting with different bar cart decors every 2–3 years.
Well, they say the peak of adulthood is to have a bar cart. These fancy drinks demonstrate to your guests that you've matured enough to host a sophisticated event and have moved on from drinking shots at the Uni bar.
Plus, who doesn't like to show off their finer liquors and martini glasses collection?
However, a bar cart may quickly become drab and uninspiring. While the chrome and glass cart itself is beautiful, if you just put some booze bottles and glasses on it, you're not doing it justice.
And you're squandering another opportunity to show off your fashion credentials.
Home decor experts I have met swear by these tried and true ideas for bar cart decoration while working with their clients as well as their own cocktail nooks.
A drinks cart is a must-have if you frequently host friends and family at your house.
Bar carts and service carts, both of which were formerly considered antiquated, are again in vogue as stylish ways to show off your favourite liquors and glassware while also providing the mobility of a mobile bar.
There are a few things to think about when purchasing a drinks cart, regardless of whether you want one that also serves as storage or if you want to build your own home bar.
In order to avoid wasting space, consider about how many shelves you need for bottles and glasses, or how many additional compartments you need to store an ice bucket or garnishes, for instance.
The 21+ Best Bar Carts 2023-From Budget to splurge
Consider the material and design, as well as how that ties into your overall design plan.
A gold bar cart, for example, would be out of place in a rustic or country-style setting.
As much as Instagram-worthy gold bar carts are a hot trend right now, don't count out a more pared-down or vintage-inspired drinks trolley too.
If you're planning a summer garden party, consider purchasing an outdoor beverage cart.
20+ Kitchen Counter Decor Trends we adore
Bar Carts Trends in 2023

The following bar cart trends are anticipated to be well-liked in 2023:
Retro and vintage designs: Bar carts from the past are becoming more popular. Individuals are incorporating vintage or retro-style bar carts into their home decor in an effort to embrace nostalgia for the past.
Vivid colours: In 2023, bar carts in vibrant red or blue are anticipated to be popular. Any area can benefit from the splash of colour these striking pieces bring.
Bar carts with multipurpose designs are increasingly common. These carts can be used for more than just dispensing beverages. While some bar carts can be used as side tables or plant stands, others have built-in storage for bottles, glassware, and other bar equipment.
Bar carts with an industrial appearance, including metal frames and rustic wood accents, are also anticipated to be well-liked. These bar carts may give your design a modern edge.
Bar carts with minimalist designs, including clear lines and basic shapes, are anticipated to be well-liked by individuals who choose a more modest appearance.
Sustainability: Reclaimed wood and bamboo are becoming more and more popular choices for bar carts. Consumers desire to lessen their carbon impact and are becoming more interested in eco-friendly items.
In general, bar carts are becoming more and more well-liked as a fashionable and useful addition to any home design. You can choose a bar cart that matches your preferences and needs from a number of types and designs.
Bar carts to look for this year!- Best Bar carts on Amazon
[lasso ref="x-cosrack-bar-carts-for-the-home-3-tier-wooden-kitchen-cart-with-wheels-and-handle-industrial-vintage-style-serving-trolley-with-removable-top-tray" id="128465″ link_id="205404″][lasso ref="gold-rolling-wine-bar-cart-2-tiered-glass-shelves-with-lockable-casters-for-home-kitchen-club-30-l17-w31-h" id="128469″ link_id="205405″][lasso ref="deco-79-contemporary-metal-bar-cart-31w-x-33h-gold" id="128475″ link_id="205406″][lasso ref="winsome-trading-inc-jimmy-cart-espreso" id="133925″ link_id="205407″]
High-End bar carts
Best Bar Cart from Wayfair
Wood Serving Bar Cart Tea Trolley with 2 Tier Shelves and Rolling Wheels
---
---
Coolest bar Cart from Wayfair
The Gasaway Bar Cart's charm makes it the ideal furniture for any sophisticated bar or dining room combination.
Everyone loves a moveable party. With its caster wheels, this bar cart lets you take the bar anywhere. Metal frame with geometric elements and two rounded push handles.
The two oval shelves have mirrored bases, adding sophistication to your space while providing plenty of space to store liquors, wines, and more. This cart also has a three-bottle wine rack.
---
---
Arsene Bar Cart from the Macy's
Serve guests cocktails in style with the Arsene bar cart. This durable metal cart features two mirrored glass shelves, quintessential for displaying and serving your favourite liquors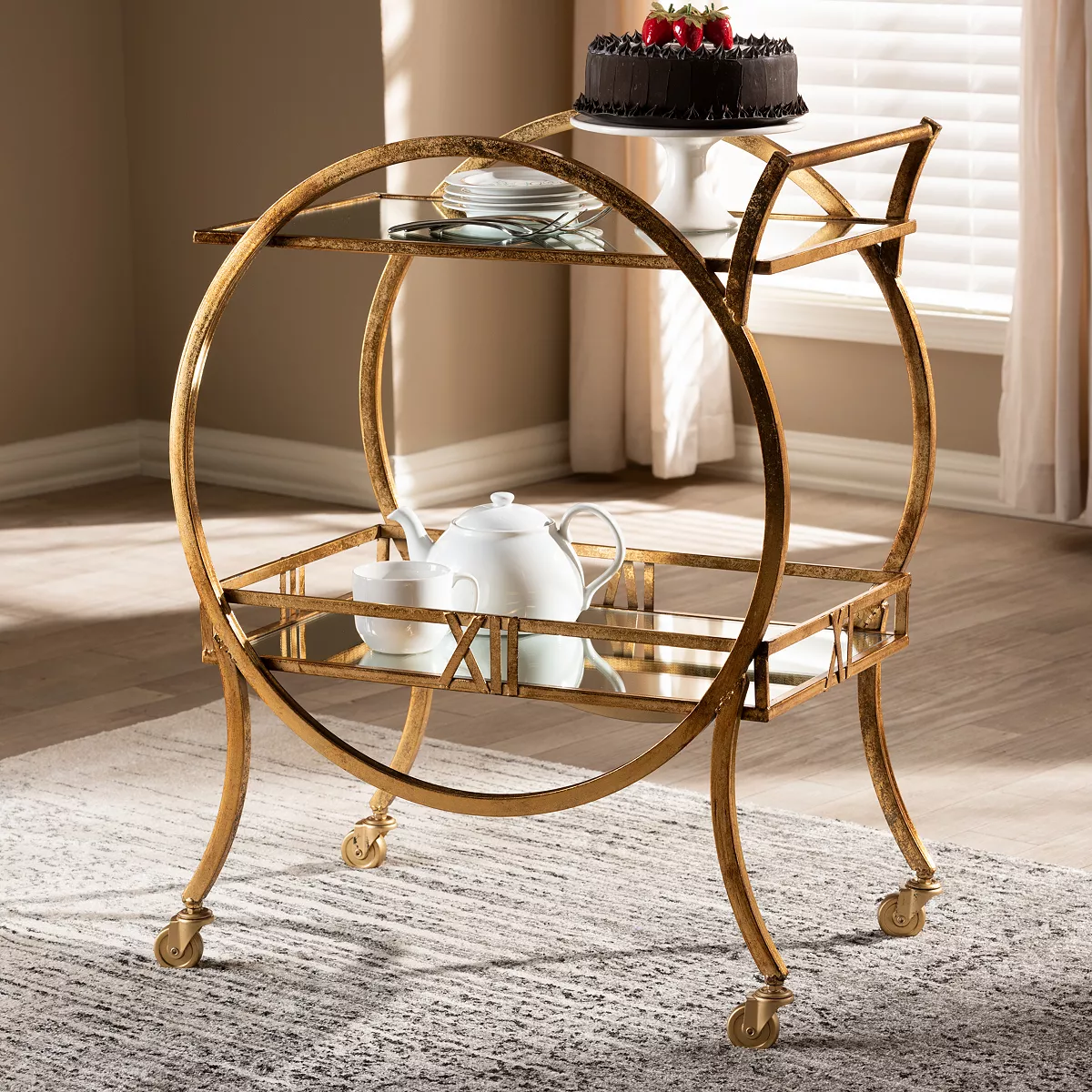 ---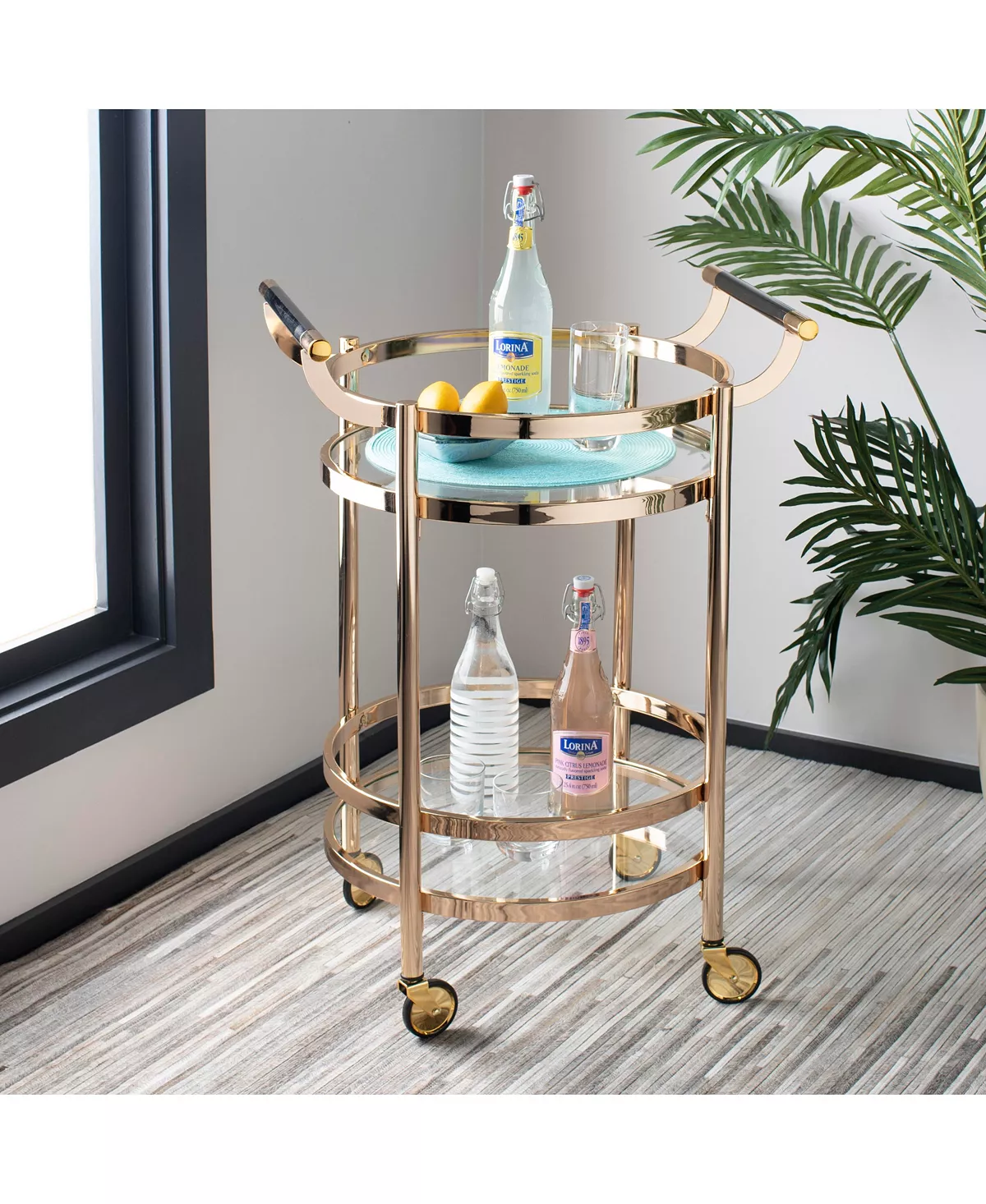 ---
High End Barcart
The sleek Carter Bar cart/ Drinks trolley with a Beautiful line makes a bold fashion statement.
Stylish sintered stone shelves and multi-directional wheels make it easy to move about the space, and did we mention it's only a few feet long?

Best Bar carts for Apartments
What to Look for When Buying an Apartment Bar Cart
Not all bar carts are created equal, especially when searching for one that will fit in the given space.
Therefore, we recommend keeping the following three factors in mind when shopping for a bar cart for your apartment:
1. First consideration: size
Possibly it goes without saying, but you should absolutely measure the locations in your flat where your bar cart will be stored and rolled.
Then, compare these specifications to the dimensions of any bar cart you are considering purchasing.
Thus, you won't encounter any unpleasant surprises when assembling your new bar.
2.Second factor: The Build & Storage capacity
If the bar cart you're considering is poorly constructed, you will never be satisfied with it.
Pay specific attention to the casters (wheels), as they will experience the most wear and tear.
3.Third factor: The Looks
What use is a solid, appropriately-sized bar cart if you can't stand the sight of it?
This final factor is a question of personal preference, which is why we have included bar carts of all styles for your viewing enjoyment.
[lasso ref="south-shore-maliza-bar-cart-bottle-storage-and-wine-glass-rack-faux-marble-and-gold" id="148110″ link_id="205408″]
Is the Maliza bar cart from South Shore suitable for your apartment? Here are the plusses and minuses:
PROS
It comes in Gold-plated metal frame is both attractive and sturdy
Tempered glass shelves are attractive and simple to maintain.
1 year limited warranty safeguards your purchase.
CONS
Wide and low designs may not fit well in some apartments.
Tall persons may be uncomfortable with low shelf height.
.
[lasso ref="round-gold-rolling-bar-cart-with-2-mirror-shelves-wine-rack-and-lockable-casters-suitable-for-home-kitchen-club-living-room-thanksgiving-christmas-new-year-22x18x33-2″ id="148098″ link_id="205409″]
Best Bar carts for Apartments
On this three-tiered trolley from the House Beautiful Marketplace, you can store more glasses and beverages.
It's ideal for hosting your next get-together, thanks to its Golden finish.

[lasso ref="round-gold-rolling-bar-cart-with-2-mirror-shelves-wine-rack-and-lockable-casters-suitable-for-home-kitchen-club-living-room-thanksgiving-christmas-new-year-22x18x33″ id="128487″ link_id="205410″][lasso ref="firstime-co-silver-catalina-bar-cart-slim-kitchen-serving-cart-and-coffee-cart-with-storage-for-liquor-and-glasses-metal-and-glass-glam-29-25-x-16-x-29-75-inches-70492″ id="148111″ link_id="205411″]
Don't Limit Yourself to Conventional Design Elements
Emma Sember prefers an industrial design bar cart over the more classic glass and brass bar carts, which helps to raise the overall appeal of your bar cart to a higher level.
If you're searching for something different and surprising, she suggests taking a look at traditional stainless steel carts, as well as black and chrome alternatives.
Why not experiment with this bar cart instead of your normal one? In addition, Emma states that extra furniture may be changed into a customised drinking space based on customer preferences.
Many other techniques may be used to organise your cocktail supplies, including placing them on bookshelves or console tables and positioning them near entertainment items such as a record player or a coffee table book about bartending.
There are virtually no restrictions on what you may do.
How much to spend on home decor ? How Much Should you Spend on Each Room
[lasso ref="yitahome-industrial-bar-carts-for-the-home-mobile-serving-cart-on-wheels-with-removable-wood-top-container-3-tier-kitchen-cart-with-wine-rack-glasses-holder-rustic-brown" id="128480″ link_id="205412″][lasso ref="bar-cart-for-the-home-with-wine-rack-industrial-outdoor-serving-cart-w-2-removable-trays-on-lockable-wheels-3-tier-black-rolling-liquor-cart-vintage-beverage-trolley-for-storage-modern-mini-bar-cart" id="148100″ link_id="205413″][lasso ref="yitahome-bar-carts-for-the-home-industrial-bar-cart-with-movable-basket-serving-cart-on-wheels-with-3-tier-storage-shelves-kitchen-cart-with-glass-holder-for-dining-room-bar-rustic-brown" id="148099″ link_id="205414″]
Modern Bar Cart
[lasso ref="round-gold-rolling-bar-cart-with-2-mirror-shelves-wine-rack-and-lockable-casters-suitable-for-home-kitchen-club-living-room-thanksgiving-christmas-new-year-22x18x33-2″ id="148098″ link_id="205415″]
Best Bar Cart/ Drink cart for Outdoors
[lasso ref="bluu-outdoor-patio-cooler-bar-outdoor-patio-furniture-and-hot-tub-side-table-adjustable-height-tables-with-10-gallon-coffee-beer-and-wine-cooler-waterproof-steady-grey" id="133813″ link_id="205416″]
Bar cart for outdoors
Key Features:
Perfect for playtime and fun hangs outside
Wheels with smooth moves
Rust-resistant aluminum, powder coated in white finish, black glass shelves & space for 4 bottles
Weight capacity of 100 lbs per shelf
[lasso ref="keter-beer-and-wine-cooler-table-perfect-for-your-patio-picnic-and-beach-accessories-graphite" id="133809″ link_id="205417″][lasso ref="keter-breeze-bar-outdoor-patio-furniture-and-hot-tub-side-table-with-14-8-gallon-beer-and-wine-cooler-dark-grey-teal" id="133817″ link_id="205418″][lasso ref="jeco-outdoor-resin-wicker-serving-cart" id="148097″ link_id="205419″]
what to consider buying a bar car for Apartment
When buying a bar cart for your apartment, there are several factors to consider in order to find the perfect addition to your living space. Here are the key aspects to keep in mind:
Size and Space Constraints: Measure the available space in your apartment to determine the ideal size of the bar cart. Consider the clearance needed for easy movement and comfortable access for you and your guests.
Material: Bar carts are available in various materials, such as wood, metal, glass, and acrylic. Consider the durability, maintenance requirements, and compatibility with your existing décor when selecting the material.
Style: Choose a bar cart style that complements your personal taste and the overall aesthetic of your apartment. Options range from minimalist and modern to vintage and glamorous.
Functionality: A practical bar cart should offer ample storage for liquor bottles, glassware, and bar accessories. Look for features like adjustable shelves, built-in wine racks, and multiple tiers to maximize storage space. Locking wheels can provide stability and prevent accidental movement.
Budget: Set a budget before shopping for a bar cart, keeping in mind that prices can vary greatly. Decide on the features you're willing to compromise on to stay within your budget while still investing in a high-quality piece.
Assembly and Maintenance: Consider whether the bar cart requires assembly and how much time you're willing to invest in putting it together. Also, take into account the maintenance requirements for the materials used to ensure your cart remains in good condition.
Versatility: While a bar cart's primary purpose is to store and display beverages and glassware, it can also serve other functions. Opt for a cart that can be easily repurposed as a coffee station, dessert cart, or decorative display for books and other items.
By taking these factors into account, you'll be well-equipped to find the ideal bar cart for your apartment, adding both style and functionality to your entertaining experience.
Bar Carts Buying guide
If you are thinking about purchasing a bar cart, the following are some considerations to keep in mind:
Material: The majority of bar carts are constructed out of either metal, wood, or a combination of the two. Take into consideration the materials that were used to make the bar cart, and select one that complements the design of your space and is sturdy enough to last for many years.
Dimensions: Give some thought to the dimensions of the bar cart, and make certain that it will be able to fit easily in the area where you intend to put it to use. When making a purchase, take accurate measurements of the space to ensure a suitable fit.
Bar carts are available in a number of different forms, including modern, vintage, and industrial, among others. Choose a design that speaks to your unique sense of style and works well with the furnishings and accessories you already have.
Determine how much space you'll need for storage when making your preparations. Some bar carts come equipped with shelves or drawers built right in, while others feature racks that can hold wine bottles or glasses.
Search for bar carts that already have accessories built in, such as bottle openers or towel racks, and consider purchasing one of those. Accessories These might improve the usability of the cart and make it more convenient to use.
Mobility is ensured by selecting a bar cart that is both lightweight and equipped with wheels or casters. Because of this, moving the cart to different rooms or locations won't be difficult at all.
Cost of bar carts can range widely due to factors such as their size, construction, and other features. Before you go shopping, you should first determine your budget, and then hunt for products whose prices are within that range.
If you keep these considerations in mind while shopping for a bar cart, you should be able to locate one that not only complements your interior design but also satisfies your requirements in terms of functionality.
There is a bar cart on the market that will meet your needs, regardless of whether you want a modern, minimalist design or a retro-inspired cart with a lot of space for storage.
Wrapping up Note
As we've seen in this tutorial, a well-chosen bar cart can completely change your space and make entertaining a breeze. There's a bar cart for every aesthetic and budget, with selections ranging from sleek minimalist designs to sumptuous vintage-inspired items.
You can select the right addition to your living area that expresses your unique style and complements your existing décor by considering elements such as size, materials, and practicality.
Finally, investing in a high-quality bar cart is a wise decision for anyone wishing to up their partying game and improve the ambience of their apartment.
It's a multifunctional and functional piece of furniture that not only acts as a fashionable storage option for your favourite drinks and glasse, but also works as a discussion starter for your guests.
You may create a sleek and inviting setting that truly embodies the soul of hospitality with the appropriate pick.
Now, armed with our finest options and expert advice, it's time to roll out the perfect bar cart for your apartment and raise a glass to refined living. Good luck with your hosting!
Take Your Entertaining to the Next Level: The Top Bar Carts for Your Apartment – FAQs
What is a bar cart?
A bar cart is a mobile piece of furniture that is typically mounted on wheels and is designed to hold and display alcoholic beverages, glassware, and other bar accessories.
In addition to being a stylish and sophisticated addition to your living space, it performs the practical role of a beverage station.
How much room is required for a bar cart in my home?
The quantity of free space needed for a bar cart is directly proportional to the cart's actual dimensions. There are variants available that are more compact, making them suited for smaller flats, as well as options that are larger, making them suitable for living rooms with more space.
Before selecting a cart, you should first determine the amount of space you have available and your storage requirements.
How do I style my bar cart?
Styling a bar cart involves arranging liquor bottles, glassware, and other bar accessories in an aesthetically pleasing manner.
Consider adding a decorative tray, fresh flowers, or artwork to personalize your bar cart and showcase your style.
How do I maintain my bar cart?
To keep your bar cart looking its best, dust and clean it regularly using appropriate cleaning products for the specific material.
Avoid overloading the cart, and ensure that items are securely placed to prevent accidents.
What kind of upkeep does my bar cart require?
Dust and clean your bar cart on a regular basis using cleaning products that are designed specifically for the material it is made of in order to maintain it looking its absolute best. Avoid putting too much in the cart at once and check to see that everything is in its proper spot to avoid any accidents.
Is there any alternative furniture that I could utilise instead of a bar cart?
Yes, bar carts are adaptable and may be used for a variety of functions, such as a coffee station, dessert cart, or even as a beautiful storage option for books and decorative objects. Bar carts are quite versatile and can be used for a variety of purposes.
How much money should I budget for the purchase of a bar cart?
The price of a bar cart can vary quite a bit based on the style, the materials used, and the dimensions of the cart.
You can discover selections that are reasonable beginning about $90, while higher-end, designer pieces can cost several hundred dollars or more.
First, choose your spending limit and then make a list of the features and capabilities that are important to you.
Home decor related Blogs